curated street library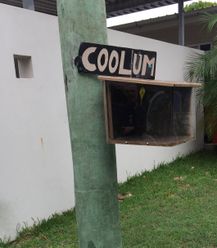 The Curated Street Library came from the overload of great books that currently can't find a home. Many contain great ideas.
If we can't find the space or relevance for these good ideas then the CSL seeks to inspire the discovery and discussion that some books can achieve.
Regular 'curators' will stock the CSL with their books that are seeking new owners and an opening will be created where the ideas and passion are explained. Books may well go to new places, the ideas may also travel freely. Local knowledge and vision that elevates art within the community.
Located in Heathfield st. - the front yard of Ray Barbers office, the CSL seeks to be accessible to community and invites proposals from curators.
contact - johnxfuller@gmail (dot) com
Housing - Dreams and Realities
Curator Melissa Morris January 2022
This collection of books in the Curated Street Library came from my studies and interest in environmental science and urban and regional planning.  They were collected in the early 1990's.
There are a range of nonfiction and fiction and books relating to housing access, housing organisation (cities), and life in Australian cities – largely written by female authors.
One book written "Women over Sixty" contains interviews with women living in public housing, private rental, private housing, and nursing homes to document their experiences in these different forms of housing tenure. 
The book identified that the housing experiences of older women and men were different, and that agencies/government should collect sex disaggregated data to inform policy and programs to take into accounts the different needs, life experiences, and opportunities. Many older women continue to face housing insecurity are the fastest growing group of people experiencing homelessness in Australia.
 
I now work in gender equality and prevention of violence against women.  In Victoria where I live, the State Government have introduced the Gender Equality Act 2021, the first in Australia, which requires governments, Council's, and public agencies to undertake gender impact assessments using sex disaggregated data when they are developing or reviewing policies, programs or services that affected the community. Looking through the books in this collection reminded me how long it takes for change to happen and how we need to continue to work collectively to make this occur.