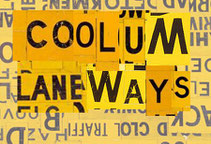 coolum laneways 2014 press+graphic
this is a record of the articles that ran during and after the events. thanks kristy.
all support graphics - flyer, catalogue, posters etc.
Coolum North Shore News 11th Sept.2104
CNSN article 11-09-2014.pdf
Adobe Acrobat Document
2.9 MB
Coolum advertiser article 18-9-2014
CA laneways postcard article 18-9-2014.p
Portable Network Image Format
457.9 KB
Sunshine Coast Daily p6/7 20.9.2014
Laneways p6:7 article SC Daily20.9.2014.
Coolum North Shore News article 25-9-2014
Laneways Front page article CNSN26.9.201
Coolum Advertiser Thong article 2-10-2014
Thong article CA_02-10-2014 p5.jpg.png
Portable Network Image Format
812.5 KB